Atene, 9-10 novembre 2012
The Interdisciplinary Memory Studies Conference
Centro Culturale
Università di Indianapolis
5 Markou Avriliou/ 2 Kiristou & Lysiou Street, Plaka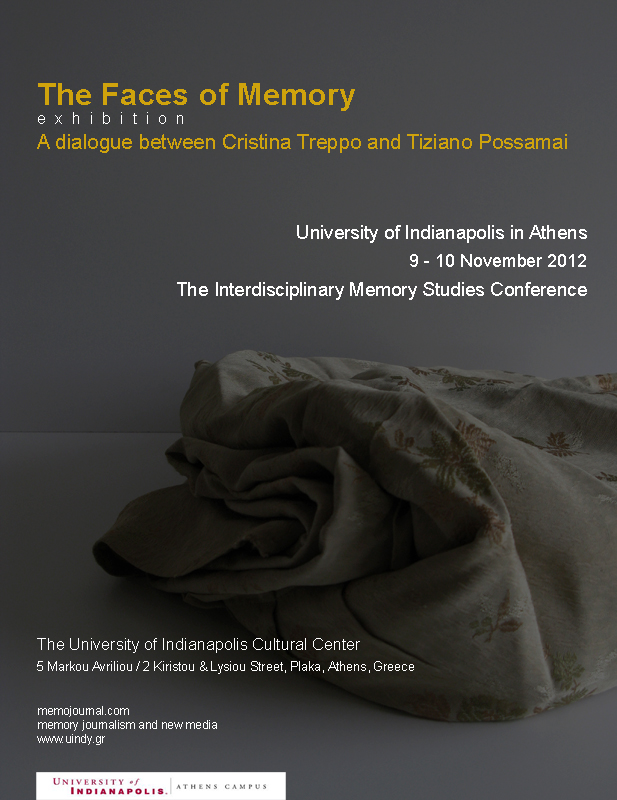 Vuoti di memoria
La memoria ha sempre a che fare con spazi di vuoto, perché senza vuoto non c'è possibilità di riempimento alcuno. Le nostre vite e storie che cosa sono se non continui processi di riempimento, di stratificazione di memorie, individuali e collettive, a partire da un vuoto di memoria originario?
Il riferimento non è solo a quel vuoto insondabile da cui tutti proveniamo, ma a quel vissuto preverbale che anticipa – e nella misura in cui lo anticipa anche gli sfugge – il formarsi dell'io, consapevole e razionale, dotato di memoria esplicita. Un vissuto non più recuperabile, se non in termini di memoria sotterranea, una sorta d'inconscio non rimosso inaccessibile alla coscienza sulla quale nondimeno continua ad agire.

Gap in memory
Memory always has to do with gaps, because without an empty space there is no possibility of filling that void. Aren't our lives, our histories, nothing more than the continuous filling of those spaces, stratifications of individual and collective memories starting from an original gap in memory?
Not only that unfathomable void we all come from, but the preverbal experience that precedes – and as such eludes – the formation of the self, aware and rational, with an explicit memory. That experience is irretrievable, unless through a subterranean memory, unaware, inaccessible to the conscious mind but upon which it nonetheless continues to act.